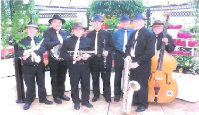 High Society Jazz Band
The Morecambe based band features a repertoire built mainly around the classic jazz of Oliver, Dodds, Morton and Armstrong with excursions into the swing period.
They are booked to play over the lunchtime period most months on the 3rd Friday. Lunchtime events are free although a collection will be taken.
Fri
Fri
17/01/20
21/02/20
12.30-14.30
12.30-14.30
The Swing Commanders
The Swing Commanders make a welcome return to Refreshment Room. The hugely talented, high-energy Lancashire sextet has wowed listeners and dancers alike through its unique presentation of some of the finest music from the 30s, 40s and 50s, with its array of five specialist musicians, five solo voices and as for instruments – well, we will leave you to count for yourself! Let them take you back in time for a special evening of Swing with a champagne sparkle. They really are the cats with the cream of Forties classics, so either take to the floor or just sit back and sample the sweet Swing sensation that is - The Swing Commanders!
Admission £20